Lord Jesus Christ of Nazareth
Also known as... YHVH, The WORD of God, Adonai, Abba, Elohim, Yahweh, El Shaddai, Jehovah Rapha, God our Father.
The Great I'AM, the God of Abraham Isaac, and Jacob. El Roy, Jehova Nissi, Eli, The Alpha and the Omega, The Ancient of Days, The Anointed One, The Rock, The Blessed and Only Sovereign, The Branch, The Bright Morning Star, The Christ, The Comforter, All Consuming Fire, The Creator, The Deliverer, Eternal Father, The Everlasting God, The Almighty Father God, God is for us, The Universal Creator, The Good Shepherd, Heavenly Father, I AM, The Holy Spirit, Immanuel, Jehovah, Jesus, King of Kings and Lord Of Lords, The Lamb of God, Light of the World, Our Loving Father, The Living God. The Way the truth and the Life, The Name That's Above Every Other Name On Earth, & many, many more.
Exclusively for The Universal Creator, The KING of kings and LORD of lords, I humble the Name That's Above Every Other Name On Earth...
Romans 11 - 12
I say then, Hath God cast away his people? God forbid. For I also am an Israelite, of the seed of Abraham, of the tribe of Benjamin. God hath not cast away his people which he foreknew. Wot ye not what the scripture saith of Elias? how he maketh intercession to God against Israel saying, Lord, they have killed thy prophets, and dug down thine altars; and I am left alone, and they seek my life. But what saith the answer of God unto him? I have reserved to myself seven thousand men, who have not bowed the knee to the image of Baal.
Romans 11
11 I say then, Hath God cast away his people? God forbid. For I also am an Israelite, of the seed of Abraham, of the tribe of Benjamin.
2 God hath not cast away his people which he foreknew. Wot ye not what the scripture saith of Elias? how he maketh intercession to God against Israel saying,
3 Lord, they have killed thy prophets, and digged down thine altars; and I am left alone, and they seek my life.
4 But what saith the answer of God unto him? I have reserved to myself seven thousand men, who have not bowed the knee to the image of Baal.
5 Even so then at this present time also there is a remnant according to the election of grace.
6 And if by grace, then is it no more of works: otherwise grace is no more grace. But if it be of works, then it is no more grace: otherwise work is no more work.
7 What then? Israel hath not obtained that which he seeketh for; but the election hath obtained it, and the rest were blinded.
8 (According as it is written, God hath given them the spirit of slumber, eyes that they should not see, and ears that they should not hear;) unto this day.
9 And David saith, Let their table be made a snare, and a trap, and a stumblingblock, and a recompence unto them:
10 Let their eyes be darkened, that they may not see, and bow down their back alway.
11 I say then, Have they stumbled that they should fall? God forbid: but rather through their fall salvation is come unto the Gentiles, for to provoke them to jealousy.
12 Now if the fall of them be the riches of the world, and the diminishing of them the riches of the Gentiles; how much more their fulness?
13 For I speak to you Gentiles, inasmuch as I am the apostle of the Gentiles, I magnify mine office:
14 If by any means I may provoke to emulation them which are my flesh, and might save some of them.
15 For if the casting away of them be the reconciling of the world, what shall the receiving of them be, but life from the dead?
16 For if the firstfruit be holy, the lump is also holy: and if the root be holy, so are the branches.
17 And if some of the branches be broken off, and thou, being a wild olive tree, wert grafted in among them, and with them partakest of the root and fatness of the olive tree;
18 Boast not against the branches. But if thou boast, thou bearest not the root, but the root thee.
19 Thou wilt say then, The branches were broken off, that I might be grafted in.
20 Well; because of unbelief they were broken off, and thou standest by faith. Be not highminded, but fear:
21 For if God spared not the natural branches, take heed lest he also spare not thee.
22 Behold therefore the goodness and severity of God: on them which fell, severity; but toward thee, goodness, if thou continue in his goodness: otherwise thou also shalt be cut off.
23 And they also, if they abide not still in unbelief, shall be grafted in: for God is able to graft them in again.
24 For if thou wert cut out of the olive tree which is wild by nature, and wert grafted contrary to nature into a good olive tree: how much more shall these, which be the natural branches, be grafted into their own olive tree?
25 For I would not, brethren, that ye should be ignorant of this mystery, lest ye should be wise in your own conceits; that blindness in part is happened to Israel, until the fulness of the Gentiles be come in.
26 And so all Israel shall be saved: as it is written, There shall come out of Sion the Deliverer, and shall turn away ungodliness from Jacob:
27 For this is my covenant unto them, when I shall take away their sins.
28 As concerning the gospel, they are enemies for your sakes: but as touching the election, they are beloved for the father's sakes.
29 For the gifts and calling of God are without repentance.
30 For as ye in times past have not believed God, yet have now obtained mercy through their unbelief:
31 Even so have these also now not believed, that through your mercy they also may obtain mercy.
32 For God hath concluded them all in unbelief, that he might have mercy upon all.
33 O the depth of the riches both of the wisdom and knowledge of God! how unsearchable are his judgments, and his ways past finding out!
34 For who hath known the mind of the Lord? or who hath been his counsellor?
35 Or who hath first given to him, and it shall be recompensed unto him again?
36 For of him, and through him, and to him, are all things: to whom be glory for ever. Amen.
12 I beseech you therefore, brethren, by the mercies of God, that ye present your bodies a living sacrifice, holy, acceptable unto God, which is your reasonable service.
2 And be not conformed to this world: but be ye transformed by the renewing of your mind, that ye may prove what is that good, and acceptable, and perfect, will of God.
3 For I say, through the grace given unto me, to every man that is among you, not to think of himself more highly than he ought to think; but to think soberly, according as God hath dealt to every man the measure of faith.
4 For as we have many members in one body, and all members have not the same office:
5 So we, being many, are one body in Christ, and every one members one of another.
6 Having then gifts differing according to the grace that is given to us, whether prophecy, let us prophesy according to the proportion of faith;
7 Or ministry, let us wait on our ministering: or he that teacheth, on teaching;
8 Or he that exhorteth, on exhortation: he that giveth, let him do it with simplicity; he that ruleth, with diligence; he that sheweth mercy, with cheerfulness.
9 Let love be without dissimulation. Abhor that which is evil; cleave to that which is good.
10 Be kindly affectioned one to another with brotherly love; in honour preferring one another;
11 Not slothful in business; fervent in spirit; serving the Lord;
12 Rejoicing in hope; patient in tribulation; continuing instant in prayer;
13 Distributing to the necessity of saints; given to hospitality.
14 Bless them which persecute you: bless, and curse not.
15 Rejoice with them that do rejoice, and weep with them that weep.
16 Be of the same mind one toward another. Mind not high things, but condescend to men of low estate. Be not wise in your own conceits.
17 Recompense to no man evil for evil. Provide things honest in the sight of all men.
18 If it be possible, as much as lieth in you, live peaceably with all men.
19 Dearly beloved, avenge not yourselves, but rather give place unto wrath: for it is written, Vengeance is mine; I will repay, saith the Lord.
20 Therefore if thine enemy hunger, feed him; if he thirst, give him drink: for in so doing thou shalt heap coals of fire on his head.
21 Be not overcome of evil, but overcome evil with good.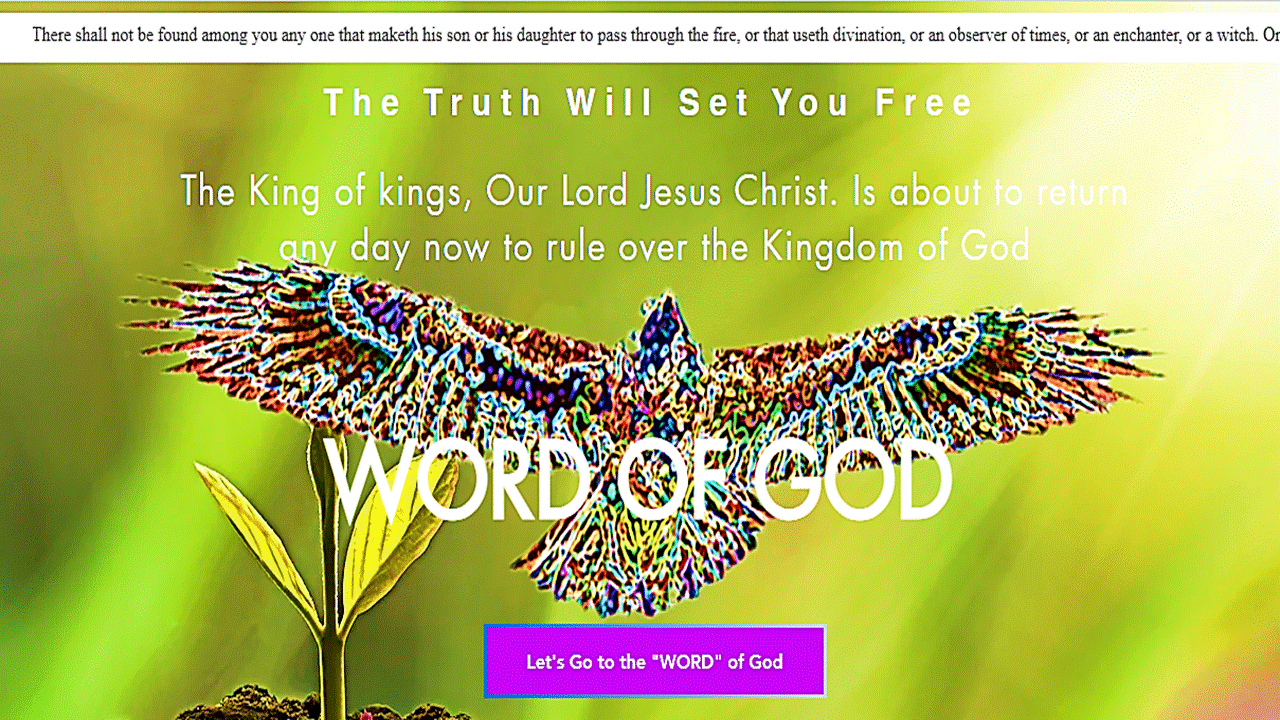 On Earth As It Is In Heaven
"AF": "Afghanistan",
"AX": "Aland Islands",
"AL": "Albania",
"DZ": "Algeria",
AS": "American Samoa",
"AD": "Andorra",
"AO": "Angola",
"AI": "Anguilla",
"AQ": "Antarctica",
"AG": "Antigua and Barbuda",
"AR": "Argentina",
"AM": "Armenia",
"AW": "Aruba",
"AU": "Australia",
"AT": "Austria",
"AZ": "Azerbaijan",
"BS": "Bahamas",
"BH": "Bahrain",
"BD": "Bangladesh",
"BB": "Barbados",
"BY": "Belarus",
"BE": "Belgium",
"BZ": "Belize",
"BJ": "Benin",
"BM": "Bermuda",
"BT": "Bhutan",
"BO": "Bolivia",
"BQ": "Bonaire, Sint Eustatius and Saba",
"BA": "Bosnia and hertz. "BW": "Botswana",
"BV": "Bouvet Island",
"BR": "Brazil",
"IO": "British Indian Ocean
"BN": "Brunei Darussalam", "BG": "Bulgaria",
"BF": "Burkina Faso",
"BI": "Burundi",
"KH": "Cambodia",
"CM": "Cameroon",
"CA": "Canada",
"CV": "Cape Verde",
"KY": "Cayman Islands",
"CF": "Central African Rep.
"TD": "Chad",
"CL": "Chile",
"CN": "China",
"CX": "Christmas Island",
"CC": "Cocos (Keeling) Islands",
"CO": "Colombia",
"KM": "Comoros",
"CG": "Congo",
"CD": "Congo, the Democratic R
"CK": "Cook Islands",
"CR": "Costa Rica",
"CI": "Cote D'Ivoire",
"HR": "Croatia",
"CU": "Cuba",
"CW": "Curacao",
"CY": "Cyprus" G
"CY" "Cyprus" T
"CZ": "Czech Republic",
"DK": "Denmark",
"DJ": "Djibouti",
"DM": "Dominica",
"DO": "Dominican Republic",
"EC": "Ecuador",
"EG": "Egypt",
"SV": "El Salvador",
"GQ": "Equatorial Guinea",
"ER": "Eritrea",
"EE": "Estonia",
"ET": "Ethiopia",
"FK": "Falkland Islands
"FO": "Faroe Islands",
"FJ": "Fiji",
"FI": "Finland",
"FR": "France",
"GF": "French Guiana",
"PF": "French Polynesia",
"TF": "French Southern T
"GA": "Gabon",
"GM": "Gambia",
"GE": "Georgia",
"DE": "Germany",
"GH": "Ghana",
"GI": "Gibraltar",
"GR": "Greece",
"GL": "Greenland",
"GD": "Grenada",
"GP": "Guadeloupe",
"GU": "Guam",
"GT": "Guatemala",
"GG": "Guernsey",
"GN": "Guinea",
"GW": "Guinea-Bissau",
"GY": "Guyana",
"HT": "Haiti",
"VA": "Holy See
"HN": "Honduras",
"HK": "Hong Kong",
"HU": "Hungary",
"IS": "Iceland",
"IN": "India",
"ID": "Indonesia",
"IR": "Iran, ,
"IQ": "Iraq",
"IE": "Ireland",
"IM": "Isle of Man",
"IL": "Israel",
"IT": "Italy",
"JM": "Jamaica",
"JP": "Japan",
"JE": "Jersey",
"JO": "Jordan",
"KZ": "Kazakhstan",
"KE": "Kenya",
"KI": "Kiribati",
"KP": "Korea, D.P.R.
"KR": "Korea,
"XK": "Kosovo",
"KW": "Kuwait",
"KG": "Kyrgyzstan",
"LA": "Lao P.D.R.
"LV": "Latvia",
"LB": "Lebanon",
"LS": "Lesotho",
"LR": "Liberia",
"LY": "Libyan Arab "LI": "Liechtenstein",
"LT": "Lithuania",
"LU": "Luxembourg",
"MO": "Macao",
"MK": "Macedonia,
"MG": "Madagascar",
"MW": "Malawi",
"MY": "Malaysia",
"MV": "Maldives",
"ML": "Mali",
"MT": "Malta",
"MH": "Marshall Islands",
"MQ": "Martinique",
"MR": "Mauritania",
"MU": "Mauritius",
"YT": " Mayotte",
"MX": "Mexico",
"FM": "Micronesia,
"MD": "Moldova, ",
"MC": "Monaco",
"MN": "Mongolia",
"ME": "Montenegro",
"MS": "Montserrat",
"MA": "Morocco",
"MZ": "Mozambique",
"MM": "Myanmar",
"NA": "Namibia",
"NR": "Nauru",
"NP": "Nepal",
"NL": "Netherlands",
"AN": "Netherlands Antilles",
"NC": "New Caledonia",
"NZ": "New Zealand",
"NI": "Nicaragua",
"NE": "Niger",
"NG": "Nigeria",
"NU": "Niue",
"NF": "Norfolk Island",
"MP": "Northern Mariana Islands",
"NO": "Norway",
"OM": "Oman",
"PK": "Pakistan",
"PW": "Palau",
"PS": "Palestinian Territory,
"PA": "Panama",
"PG": "Papua New Guinea",
"PY": "Paraguay",
"PE": "Peru",
"PH": "Philippines",
"PN": "Pitcairn",
"PL": "Poland",
"PT": "Portugal",
"PR": "Puerto Rico",
"QA": "Qatar",
"RE": "Reunion",
"RO": "Romania",
"RU": "Russian Federation",
"RW": "Rwanda",
"BL": "Saint Barthelemy",
"SH": "Saint Helena",
"KN": "Saint Kitts and Nevis",
"LC": "Saint Lucia",
"MF": "Saint Martin"
"VC": "St Vincent and the Grenadines",
"WS": "Samoa",
"SM": "San Marino",
"ST": "Sao Tome and Principe",
"SA": "Saudi Arabia",
"SN": "Senegal",
"RS": "Serbia",
"CS": "Serbia and Montenegro",
"SC": "Seychelles",
"SL": "Sierra Leone",
"SG": "Singapore",
"SX": "Sint Maarten",
"SK": "Slovakia",
"SI": "Slovenia",
"SB": "Solomon Islands",
"SO": "Somalia",
"ZA": "South Africa",
"GS": "South Georgia South Sandwich Islands",
"SS": "South Sudan",
"ES": "Spain",
"LK": "Sri Lanka",
"SD": "Sudan",
"SR": "Suriname",
"SJ": "Svalbard and Jan Mayen",
"SZ": "Swaziland",
"SE": "Sweden",
"CH": "Switzerland",
"SY": "Syrian Arab Republic",
"TW": "Taiwan,
"TJ": "Tajikistan",
"TZ": "Tanzania,
"TH": "Thailand",
"TL": "Timor-Leste",
"TG": "Togo",
"TK": "Tokelau",
"TO": "Tsonga",
"TT": "Trinidad and Tobago",
"TN": "Tunisia",
"TR": "Turkey",
"TM": "Turkmenistan",
"TC": "Turks and Caicos
"TV": "Tuvalu",
"UG": "Uganda",
"UA": "Ukraine",
"AE": "United Arab Emirates",
"GB": "United Kingdom",
"US": "United States",
"UM": "United States Minor Outlying Islands",
"UY": "Uruguay",
"UZ": "Uzbekistan",
"VU": "Vanuatu",
"VE": "Venezuela",
"VN": "Viet Nam",
"VG": "Virgin Islands, British",
"VI": "Virgin Islands, U.S.",
"WF": "Wallis and Futuna",
"EH": "Western Sahara",
"YE": "Yemen",
"ZM": "Zambia",
"ZW": "Zimbabwe"