Lord Jesus Christ of Nazareth
Also known as... YHVH, The WORD of God, Adonai, Abba, Elohim, Yahweh, El Shaddai, Jehovah Rapha, God our Father.
The Great I'AM, the God of Abraham Isaac, and Jacob. El Roy, Jehova Nissi, Eli, The Alpha and the Omega, The Ancient of Days, The Anointed One, The Rock, The Blessed and Only Sovereign, The Branch, The Bright Morning Star, The Christ, The Comforter, All Consuming Fire, The Creator, The Deliverer, Eternal Father, The Everlasting God, The Almighty Father God, God is for us, The Universal Creator, The Good Shepherd, Heavenly Father, I AM, The Holy Spirit, Immanuel, Jehovah, Jesus, King of Kings and Lord Of Lords, The Lamb of God, Light of the World, Our Loving Father, The Living God. The Way the truth and the Life, The Name That's Above Every Other Name On Earth, & many, many more.
Exclusively for The Universal Creator, The KING of kings and LORD of lords, I humble the Name That's Above Every Other Name On Earth...
Acts 11 - 12
And the apostles and brethren that were in Judaea heard that the Gentiles had also received the word of God. And when Peter was come up to Jerusalem, they that were of the circumcision contended with him, Saying, Thou wentest into men uncircumcised, and didst eat with them.
Acts 11
11 And the apostles and brethren that were in Judaea heard that the Gentiles had also received the word of God.
2 And when Peter was come up to Jerusalem, they that were of the circumcision contended with him,
3 Saying, Thou wentest in to men uncircumcised, and didst eat with them.
4 But Peter rehearsed the matter from the beginning, and expounded it by order unto them, saying,
5 I was in the city of Joppa praying: and in a trance I saw a vision, A certain vessel descend, as it had been a great sheet, let down from heaven by four corners; and it came even to me:
6 Upon the which when I had fastened mine eyes, I considered, and saw fourfooted beasts of the earth, and wild beasts, and creeping things, and fowls of the air.
7 And I heard a voice saying unto me, Arise, Peter; slay and eat.
8 But I said, Not so, Lord: for nothing common or unclean hath at any time entered into my mouth.
9 But the voice answered me again from heaven, What God hath cleansed, that call not thou common.
10 And this was done three times: and all were drawn up again into heaven.
11 And, behold, immediately there were three men already come unto the house where I was, sent from Caesarea unto me.
12 And the Spirit bade me go with them, nothing doubting. Moreover these six brethren accompanied me, and we entered into the man's house:
13 And he shewed us how he had seen an angel in his house, which stood and said unto him, Send men to Joppa, and call for Simon, whose surname is Peter;
14 Who shall tell thee words, whereby thou and all thy house shall be saved.
15 And as I began to speak, the Holy Ghost fell on them, as on us at the beginning.
16 Then remembered I the word of the Lord, how that he said, John indeed baptized with water; but ye shall be baptized with the Holy Ghost.
17 Forasmuch then as God gave them the like gift as he did unto us, who believed on the Lord Jesus Christ; what was I, that I could withstand God?
18 When they heard these things, they held their peace, and glorified God, saying, Then hath God also to the Gentiles granted repentance unto life.
19 Now they which were scattered abroad upon the persecution that arose about Stephen travelled as far as Phenice, and Cyprus, and Antioch, preaching the word to none but unto the Jews only.
20 And some of them were men of Cyprus and Cyrene, which, when they were come to Antioch, spake unto the Grecians, preaching the Lord Jesus.
21 And the hand of the Lord was with them: and a great number believed, and turned unto the Lord.
22 Then tidings of these things came unto the ears of the church which was in Jerusalem: and they sent forth Barnabas, that he should go as far as Antioch.
23 Who, when he came, and had seen the grace of God, was glad, and exhorted them all, that with purpose of heart they would cleave unto the Lord.
24 For he was a good man, and full of the Holy Ghost and of faith: and much people was added unto the Lord.
25 Then departed Barnabas to Tarsus, for to seek Saul:
26 And when he had found him, he brought him unto Antioch. And it came to pass, that a whole year they assembled themselves with the church, and taught much people. And the disciples were called Christians first in Antioch.
27 And in these days came prophets from Jerusalem unto Antioch.
28 And there stood up one of them named Agabus, and signified by the Spirit that there should be great dearth throughout all the world: which came to pass in the days of Claudius Caesar.
29 Then the disciples, every man according to his ability, determined to send relief unto the brethren which dwelt in Judaea:
30 Which also they did, and sent it to the elders by the hands of Barnabas and Saul.
12 Now about that time Herod the king stretched forth his hands to vex certain of the church.
2 And he killed James the brother of John with the sword.
3 And because he saw it pleased the Jews, he proceeded further to take Peter also. (Then were the days of unleavened bread.)
4 And when he had apprehended him, he put him in prison, and delivered him to four quaternions of soldiers to keep him; intending after Easter to bring him forth to the people.
5 Peter therefore was kept in prison: but prayer was made without ceasing of the church unto God for him.
6 And when Herod would have brought him forth, the same night Peter was sleeping between two soldiers, bound with two chains: and the keepers before the door kept the prison.
7 And, behold, the angel of the Lord came upon him, and a light shined in the prison: and he smote Peter on the side, and raised him up, saying, Arise up quickly. And his chains fell off from his hands.
8 And the angel said unto him, Gird thyself, and bind on thy sandals. And so he did. And he saith unto him, Cast thy garment about thee, and follow me.
9 And he went out, and followed him; and wist not that it was true which was done by the angel; but thought he saw a vision.
10 When they were past the first and the second ward, they came unto the iron gate that leadeth unto the city; which opened to them of his own accord: and they went out, and passed on through one street; and forthwith the angel departed from him.
11 And when Peter was come to himself, he said, Now I know of a surety, that the Lord hath sent his angel, and hath delivered me out of the hand of Herod, and from all the expectation of the people of the Jews.
12 And when he had considered the thing, he came to the house of Mary the mother of John, whose surname was Mark; where many were gathered together praying.
13 And as Peter knocked at the door of the gate, a damsel came to hearken, named Rhoda.
14 And when she knew Peter's voice, she opened not the gate for gladness, but ran in, and told how Peter stood before the gate.
15 And they said unto her, Thou art mad. But she constantly affirmed that it was even so. Then said they, It is his angel.
16 But Peter continued knocking: and when they had opened the door, and saw him, they were astonished.
17 But he, beckoning unto them with the hand to hold their peace, declared unto them how the Lord had brought him out of the prison. And he said, Go shew these things unto James, and to the brethren. And he departed, and went into another place.
18 Now as soon as it was day, there was no small stir among the soldiers, what was become of Peter.
19 And when Herod had sought for him, and found him not, he examined the keepers, and commanded that they should be put to death. And he went down from Judaea to Caesarea, and there abode.
20 And Herod was highly displeased with them of Tyre and Sidon: but they came with one accord to him, and, having made Blastus the king's chamberlain their friend, desired peace; because their country was nourished by the king's country.
21 And upon a set day Herod, arrayed in royal apparel, sat upon his throne, and made an oration unto them.
22 And the people gave a shout, saying, It is the voice of a god, and not of a man.
23 And immediately the angel of the Lord smote him, because he gave not God the glory: and he was eaten of worms, and gave up the ghost.
24 But the word of God grew and multiplied.
25 And Barnabas and Saul returned from Jerusalem, when they had fulfilled their ministry, and took with them John, whose surname was Mark.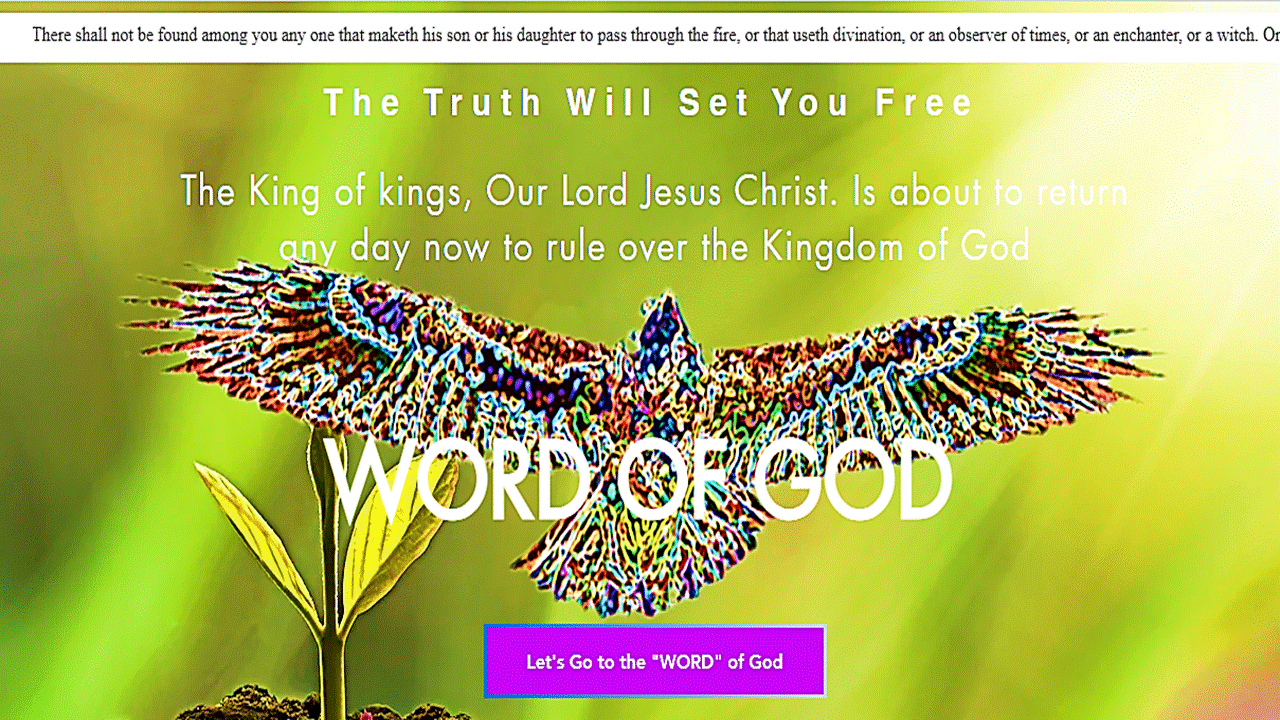 On Earth As It Is In Heaven
"AF": "Afghanistan",
"AX": "Aland Islands",
"AL": "Albania",
"DZ": "Algeria",
AS": "American Samoa",
"AD": "Andorra",
"AO": "Angola",
"AI": "Anguilla",
"AQ": "Antarctica",
"AG": "Antigua and Barbuda",
"AR": "Argentina",
"AM": "Armenia",
"AW": "Aruba",
"AU": "Australia",
"AT": "Austria",
"AZ": "Azerbaijan",
"BS": "Bahamas",
"BH": "Bahrain",
"BD": "Bangladesh",
"BB": "Barbados",
"BY": "Belarus",
"BE": "Belgium",
"BZ": "Belize",
"BJ": "Benin",
"BM": "Bermuda",
"BT": "Bhutan",
"BO": "Bolivia",
"BQ": "Bonaire, Sint Eustatius and Saba",
"BA": "Bosnia and hertz. "BW": "Botswana",
"BV": "Bouvet Island",
"BR": "Brazil",
"IO": "British Indian Ocean
"BN": "Brunei Darussalam", "BG": "Bulgaria",
"BF": "Burkina Faso",
"BI": "Burundi",
"KH": "Cambodia",
"CM": "Cameroon",
"CA": "Canada",
"CV": "Cape Verde",
"KY": "Cayman Islands",
"CF": "Central African Rep.
"TD": "Chad",
"CL": "Chile",
"CN": "China",
"CX": "Christmas Island",
"CC": "Cocos (Keeling) Islands",
"CO": "Colombia",
"KM": "Comoros",
"CG": "Congo",
"CD": "Congo, the Democratic R
"CK": "Cook Islands",
"CR": "Costa Rica",
"CI": "Cote D'Ivoire",
"HR": "Croatia",
"CU": "Cuba",
"CW": "Curacao",
"CY": "Cyprus" G
"CY" "Cyprus" T
"CZ": "Czech Republic",
"DK": "Denmark",
"DJ": "Djibouti",
"DM": "Dominica",
"DO": "Dominican Republic",
"EC": "Ecuador",
"EG": "Egypt",
"SV": "El Salvador",
"GQ": "Equatorial Guinea",
"ER": "Eritrea",
"EE": "Estonia",
"ET": "Ethiopia",
"FK": "Falkland Islands
"FO": "Faroe Islands",
"FJ": "Fiji",
"FI": "Finland",
"FR": "France",
"GF": "French Guiana",
"PF": "French Polynesia",
"TF": "French Southern T
"GA": "Gabon",
"GM": "Gambia",
"GE": "Georgia",
"DE": "Germany",
"GH": "Ghana",
"GI": "Gibraltar",
"GR": "Greece",
"GL": "Greenland",
"GD": "Grenada",
"GP": "Guadeloupe",
"GU": "Guam",
"GT": "Guatemala",
"GG": "Guernsey",
"GN": "Guinea",
"GW": "Guinea-Bissau",
"GY": "Guyana",
"HT": "Haiti",
"VA": "Holy See
"HN": "Honduras",
"HK": "Hong Kong",
"HU": "Hungary",
"IS": "Iceland",
"IN": "India",
"ID": "Indonesia",
"IR": "Iran, ,
"IQ": "Iraq",
"IE": "Ireland",
"IM": "Isle of Man",
"IL": "Israel",
"IT": "Italy",
"JM": "Jamaica",
"JP": "Japan",
"JE": "Jersey",
"JO": "Jordan",
"KZ": "Kazakhstan",
"KE": "Kenya",
"KI": "Kiribati",
"KP": "Korea, D.P.R.
"KR": "Korea,
"XK": "Kosovo",
"KW": "Kuwait",
"KG": "Kyrgyzstan",
"LA": "Lao P.D.R.
"LV": "Latvia",
"LB": "Lebanon",
"LS": "Lesotho",
"LR": "Liberia",
"LY": "Libyan Arab "LI": "Liechtenstein",
"LT": "Lithuania",
"LU": "Luxembourg",
"MO": "Macao",
"MK": "Macedonia,
"MG": "Madagascar",
"MW": "Malawi",
"MY": "Malaysia",
"MV": "Maldives",
"ML": "Mali",
"MT": "Malta",
"MH": "Marshall Islands",
"MQ": "Martinique",
"MR": "Mauritania",
"MU": "Mauritius",
"YT": " Mayotte",
"MX": "Mexico",
"FM": "Micronesia,
"MD": "Moldova, ",
"MC": "Monaco",
"MN": "Mongolia",
"ME": "Montenegro",
"MS": "Montserrat",
"MA": "Morocco",
"MZ": "Mozambique",
"MM": "Myanmar",
"NA": "Namibia",
"NR": "Nauru",
"NP": "Nepal",
"NL": "Netherlands",
"AN": "Netherlands Antilles",
"NC": "New Caledonia",
"NZ": "New Zealand",
"NI": "Nicaragua",
"NE": "Niger",
"NG": "Nigeria",
"NU": "Niue",
"NF": "Norfolk Island",
"MP": "Northern Mariana Islands",
"NO": "Norway",
"OM": "Oman",
"PK": "Pakistan",
"PW": "Palau",
"PS": "Palestinian Territory,
"PA": "Panama",
"PG": "Papua New Guinea",
"PY": "Paraguay",
"PE": "Peru",
"PH": "Philippines",
"PN": "Pitcairn",
"PL": "Poland",
"PT": "Portugal",
"PR": "Puerto Rico",
"QA": "Qatar",
"RE": "Reunion",
"RO": "Romania",
"RU": "Russian Federation",
"RW": "Rwanda",
"BL": "Saint Barthelemy",
"SH": "Saint Helena",
"KN": "Saint Kitts and Nevis",
"LC": "Saint Lucia",
"MF": "Saint Martin"
"VC": "St Vincent and the Grenadines",
"WS": "Samoa",
"SM": "San Marino",
"ST": "Sao Tome and Principe",
"SA": "Saudi Arabia",
"SN": "Senegal",
"RS": "Serbia",
"CS": "Serbia and Montenegro",
"SC": "Seychelles",
"SL": "Sierra Leone",
"SG": "Singapore",
"SX": "Sint Maarten",
"SK": "Slovakia",
"SI": "Slovenia",
"SB": "Solomon Islands",
"SO": "Somalia",
"ZA": "South Africa",
"GS": "South Georgia South Sandwich Islands",
"SS": "South Sudan",
"ES": "Spain",
"LK": "Sri Lanka",
"SD": "Sudan",
"SR": "Suriname",
"SJ": "Svalbard and Jan Mayen",
"SZ": "Swaziland",
"SE": "Sweden",
"CH": "Switzerland",
"SY": "Syrian Arab Republic",
"TW": "Taiwan,
"TJ": "Tajikistan",
"TZ": "Tanzania,
"TH": "Thailand",
"TL": "Timor-Leste",
"TG": "Togo",
"TK": "Tokelau",
"TO": "Tsonga",
"TT": "Trinidad and Tobago",
"TN": "Tunisia",
"TR": "Turkey",
"TM": "Turkmenistan",
"TC": "Turks and Caicos
"TV": "Tuvalu",
"UG": "Uganda",
"UA": "Ukraine",
"AE": "United Arab Emirates",
"GB": "United Kingdom",
"US": "United States",
"UM": "United States Minor Outlying Islands",
"UY": "Uruguay",
"UZ": "Uzbekistan",
"VU": "Vanuatu",
"VE": "Venezuela",
"VN": "Viet Nam",
"VG": "Virgin Islands, British",
"VI": "Virgin Islands, U.S.",
"WF": "Wallis and Futuna",
"EH": "Western Sahara",
"YE": "Yemen",
"ZM": "Zambia",
"ZW": "Zimbabwe"