Lord Jesus Christ of Nazareth
Also known as... YHVH, The WORD of God, Adonai, Abba, Elohim, Yahweh, El Shaddai, Jehovah Rapha, God our Father.
The Great I'AM, the God of Abraham Isaac, and Jacob. El Roy, Jehova Nissi, Eli, The Alpha and the Omega, The Ancient of Days, The Anointed One, The Rock, The Blessed and Only Sovereign, The Branch, The Bright Morning Star, The Christ, The Comforter, All Consuming Fire, The Creator, The Deliverer, Eternal Father, The Everlasting God, The Almighty Father God, God is for us, The Universal Creator, The Good Shepherd, Heavenly Father, I AM, The Holy Spirit, Immanuel, Jehovah, Jesus, King of Kings and Lord Of Lords, The Lamb of God, Light of the World, Our Loving Father, The Living God. The Way the truth and the Life, The Name That's Above Every Other Name On Earth, & many, many more.
Exclusively for The Universal Creator, The KING of kings and LORD of lords, I humble the Name That's Above Every Other Name On Earth...
Oh that my head were waters, and mine eyes a fountain of tears, that I might weep day and night for the slain of the daughter of my people! Oh that I had in the wilderness a lodging place of wayfaring men; that I might leave my people, and go from them! for they be all adulterers, an assembly of treacherous men. And they bend their tongues like their bow for lies: but they are not valiant for the truth upon the earth; for they proceed from evil to evil, and they know not me, saith the Lord.
9 Oh that my head were waters, and mine eyes a fountain of tears, that I might weep day and night for the slain of the daughter of my people!
2 Oh that I had in the wilderness a lodging place of wayfaring men; that I might leave my people, and go from them! for they be all adulterers, an assembly of treacherous men.
3 And they bend their tongues like their bow for lies: but they are not valiant for the truth upon the earth; for they proceed from evil to evil, and they know not me, saith the Lord.
4 Take ye heed every one of his neighbour, and trust ye not in any brother: for every brother will utterly supplant, and every neighbour will walk with slanders.
5 And they will deceive every one his neighbour, and will not speak the truth: they have taught their tongue to speak lies, and weary themselves to commit iniquity.
6 Thine habitation is in the midst of deceit; through deceit they refuse to know me, saith the Lord.
7 Therefore thus saith the Lord of hosts, Behold, I will melt them, and try them; for how shall I do for the daughter of my people?
8 Their tongue is as an arrow shot out; it speaketh deceit: one speaketh peaceably to his neighbour with his mouth, but in heart he layeth his wait.
9 Shall I not visit them for these things? saith the Lord: shall not my soul be avenged on such a nation as this?
10 For the mountains will I take up a weeping and wailing, and for the habitations of the wilderness a lamentation, because they are burned up, so that none can pass through them; neither can men hear the voice of the cattle; both the fowl of the heavens and the beast are fled; they are gone.
11 And I will make Jerusalem heaps, and a den of dragons; and I will make the cities of Judah desolate, without an inhabitant.
12 Who is the wise man, that may understand this? and who is he to whom the mouth of the Lord hath spoken, that he may declare it, for what the land perisheth and is burned up like a wilderness, that none passeth through?
13 And the Lord saith, Because they have forsaken my law which I set before them, and have not obeyed my voice, neither walked therein;
14 But have walked after the imagination of their own heart, and after Baalim, which their fathers taught them:
15 Therefore thus saith the Lord of hosts, the God of Israel; Behold, I will feed them, even this people, with wormwood, and give them water of gall to drink.
16 I will scatter them also among the heathen, whom neither they nor their fathers have known: and I will send a sword after them, till I have consumed them.
17 Thus saith the Lord of hosts, Consider ye, and call for the mourning women, that they may come; and send for cunning women, that they may come:
18 And let them make haste, and take up a wailing for us, that our eyes may run down with tears, and our eyelids gush out with waters.
19 For a voice of wailing is heard out of Zion, How are we spoiled! we are greatly confounded, because we have forsaken the land, because our dwellings have cast us out.
20 Yet hear the word of the Lord, O ye women, and let your ear receive the word of his mouth, and teach your daughters wailing, and every one her neighbour lamentation.
21 For death is come up into our windows, and is entered into our palaces, to cut off the children from without, and the young men from the streets.
22 Speak, Thus saith the Lord, Even the carcases of men shall fall as dung upon the open field, and as the handful after the harvestman, and none shall gather them.
23 Thus saith the Lord, Let not the wise man glory in his wisdom, neither let the mighty man glory in his might, let not the rich man glory in his riches:
24 But let him that glorieth glory in this, that he understandeth and knoweth me, that I am the Lord which exercise lovingkindness, judgment, and righteousness, in the earth: for in these things I delight, saith the Lord.
25 Behold, the days come, saith the Lord, that I will punish all them which are circumcised with the uncircumcised;
26 Egypt, and Judah, and Edom, and the children of Ammon, and Moab, and all that are in the utmost corners, that dwell in the wilderness: for all these nations are uncircumcised, and all the house of Israel are uncircumcised in the heart.
10 Hear ye the word which the Lord speaketh unto you, O house of Israel:
2 Thus saith the Lord, Learn not the way of the heathen, and be not dismayed at the signs of heaven; for the heathen are dismayed at them.
3 For the customs of the people are vain: for one cutteth a tree out of the forest, the work of the hands of the workman, with the axe.
4 They deck it with silver and with gold; they fasten it with nails and with hammers, that it move not.
5 They are upright as the palm tree, but speak not: they must needs be borne, because they cannot go. Be not afraid of them; for they cannot do evil, neither also is it in them to do good.
6 Forasmuch as there is none like unto thee, O Lord; thou art great, and thy name is great in might.
7 Who would not fear thee, O King of nations? for to thee doth it appertain: forasmuch as among all the wise men of the nations, and in all their kingdoms, there is none like unto thee.
8 But they are altogether brutish and foolish: the stock is a doctrine of vanities.
9 Silver spread into plates is brought from Tarshish, and gold from Uphaz, the work of the workman, and of the hands of the founder: blue and purple is their clothing: they are all the work of cunning men.
10 But the Lord is the true God, he is the living God, and an everlasting king: at his wrath the earth shall tremble, and the nations shall not be able to abide his indignation.
11 Thus shall ye say unto them, The gods that have not made the heavens and the earth, even they shall perish from the earth, and from under these heavens.
12 He hath made the earth by his power, he hath established the world by his wisdom, and hath stretched out the heavens by his discretion.
13 When he uttereth his voice, there is a multitude of waters in the heavens, and he causeth the vapours to ascend from the ends of the earth; he maketh lightnings with rain, and bringeth forth the wind out of his treasures.
14 Every man is brutish in his knowledge: every founder is confounded by the graven image: for his molten image is falsehood, and there is no breath in them.
15 They are vanity, and the work of errors: in the time of their visitation they shall perish.
16 The portion of Jacob is not like them: for he is the former of all things; and Israel is the rod of his inheritance: The Lord of hosts is his name.
17 Gather up thy wares out of the land, O inhabitant of the fortress.
18 For thus saith the Lord, Behold, I will sling out the inhabitants of the land at this once, and will distress them, that they may find it so.
19 Woe is me for my hurt! my wound is grievous; but I said, Truly this is a grief, and I must bear it.
20 My tabernacle is spoiled, and all my cords are broken: my children are gone forth of me, and they are not: there is none to stretch forth my tent any more, and to set up my curtains.
21 For the pastors are become brutish, and have not sought the Lord: therefore they shall not prosper, and all their flocks shall be scattered.
22 Behold, the noise of the bruit is come, and a great commotion out of the north country, to make the cities of Judah desolate, and a den of dragons.
23 O Lord, I know that the way of man is not in himself: it is not in man that walketh to direct his steps.
24 O Lord, correct me, but with judgment; not in thine anger, lest thou bring me to nothing.
25 Pour out thy fury upon the heathen that know thee not, and upon the families that call not on thy name: for they have eaten up Jacob, and devoured him, and consumed him, and have made his habitation desolate.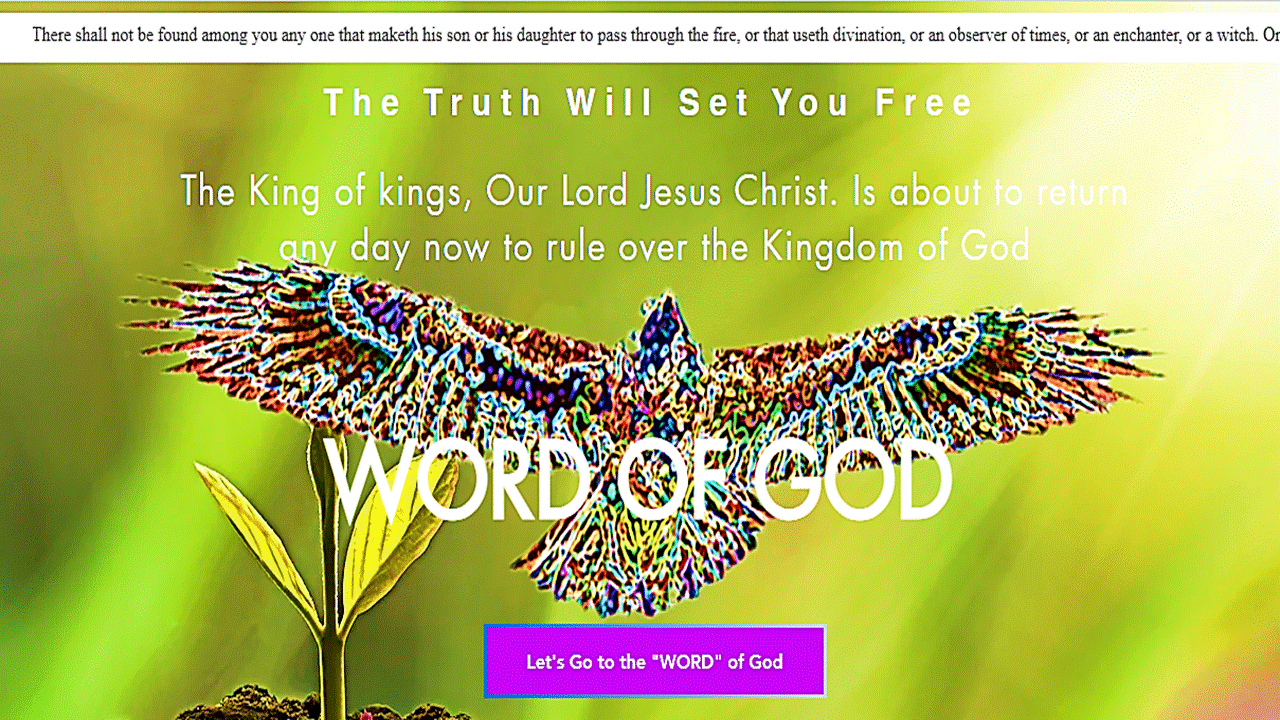 On Earth As It Is In Heaven
"AF": "Afghanistan",
"AX": "Aland Islands",
"AL": "Albania",
"DZ": "Algeria",
AS": "American Samoa",
"AD": "Andorra",
"AO": "Angola",
"AI": "Anguilla",
"AQ": "Antarctica",
"AG": "Antigua and Barbuda",
"AR": "Argentina",
"AM": "Armenia",
"AW": "Aruba",
"AU": "Australia",
"AT": "Austria",
"AZ": "Azerbaijan",
"BS": "Bahamas",
"BH": "Bahrain",
"BD": "Bangladesh",
"BB": "Barbados",
"BY": "Belarus",
"BE": "Belgium",
"BZ": "Belize",
"BJ": "Benin",
"BM": "Bermuda",
"BT": "Bhutan",
"BO": "Bolivia",
"BQ": "Bonaire, Sint Eustatius and Saba",
"BA": "Bosnia and hertz. "BW": "Botswana",
"BV": "Bouvet Island",
"BR": "Brazil",
"IO": "British Indian Ocean
"BN": "Brunei Darussalam", "BG": "Bulgaria",
"BF": "Burkina Faso",
"BI": "Burundi",
"KH": "Cambodia",
"CM": "Cameroon",
"CA": "Canada",
"CV": "Cape Verde",
"KY": "Cayman Islands",
"CF": "Central African Rep.
"TD": "Chad",
"CL": "Chile",
"CN": "China",
"CX": "Christmas Island",
"CC": "Cocos (Keeling) Islands",
"CO": "Colombia",
"KM": "Comoros",
"CG": "Congo",
"CD": "Congo, the Democratic R
"CK": "Cook Islands",
"CR": "Costa Rica",
"CI": "Cote D'Ivoire",
"HR": "Croatia",
"CU": "Cuba",
"CW": "Curacao",
"CY": "Cyprus" G
"CY" "Cyprus" T
"CZ": "Czech Republic",
"DK": "Denmark",
"DJ": "Djibouti",
"DM": "Dominica",
"DO": "Dominican Republic",
"EC": "Ecuador",
"EG": "Egypt",
"SV": "El Salvador",
"GQ": "Equatorial Guinea",
"ER": "Eritrea",
"EE": "Estonia",
"ET": "Ethiopia",
"FK": "Falkland Islands
"FO": "Faroe Islands",
"FJ": "Fiji",
"FI": "Finland",
"FR": "France",
"GF": "French Guiana",
"PF": "French Polynesia",
"TF": "French Southern T
"GA": "Gabon",
"GM": "Gambia",
"GE": "Georgia",
"DE": "Germany",
"GH": "Ghana",
"GI": "Gibraltar",
"GR": "Greece",
"GL": "Greenland",
"GD": "Grenada",
"GP": "Guadeloupe",
"GU": "Guam",
"GT": "Guatemala",
"GG": "Guernsey",
"GN": "Guinea",
"GW": "Guinea-Bissau",
"GY": "Guyana",
"HT": "Haiti",
"VA": "Holy See
"HN": "Honduras",
"HK": "Hong Kong",
"HU": "Hungary",
"IS": "Iceland",
"IN": "India",
"ID": "Indonesia",
"IR": "Iran, ,
"IQ": "Iraq",
"IE": "Ireland",
"IM": "Isle of Man",
"IL": "Israel",
"IT": "Italy",
"JM": "Jamaica",
"JP": "Japan",
"JE": "Jersey",
"JO": "Jordan",
"KZ": "Kazakhstan",
"KE": "Kenya",
"KI": "Kiribati",
"KP": "Korea, D.P.R.
"KR": "Korea,
"XK": "Kosovo",
"KW": "Kuwait",
"KG": "Kyrgyzstan",
"LA": "Lao P.D.R.
"LV": "Latvia",
"LB": "Lebanon",
"LS": "Lesotho",
"LR": "Liberia",
"LY": "Libyan Arab "LI": "Liechtenstein",
"LT": "Lithuania",
"LU": "Luxembourg",
"MO": "Macao",
"MK": "Macedonia,
"MG": "Madagascar",
"MW": "Malawi",
"MY": "Malaysia",
"MV": "Maldives",
"ML": "Mali",
"MT": "Malta",
"MH": "Marshall Islands",
"MQ": "Martinique",
"MR": "Mauritania",
"MU": "Mauritius",
"YT": " Mayotte",
"MX": "Mexico",
"FM": "Micronesia,
"MD": "Moldova, ",
"MC": "Monaco",
"MN": "Mongolia",
"ME": "Montenegro",
"MS": "Montserrat",
"MA": "Morocco",
"MZ": "Mozambique",
"MM": "Myanmar",
"NA": "Namibia",
"NR": "Nauru",
"NP": "Nepal",
"NL": "Netherlands",
"AN": "Netherlands Antilles",
"NC": "New Caledonia",
"NZ": "New Zealand",
"NI": "Nicaragua",
"NE": "Niger",
"NG": "Nigeria",
"NU": "Niue",
"NF": "Norfolk Island",
"MP": "Northern Mariana Islands",
"NO": "Norway",
"OM": "Oman",
"PK": "Pakistan",
"PW": "Palau",
"PS": "Palestinian Territory,
"PA": "Panama",
"PG": "Papua New Guinea",
"PY": "Paraguay",
"PE": "Peru",
"PH": "Philippines",
"PN": "Pitcairn",
"PL": "Poland",
"PT": "Portugal",
"PR": "Puerto Rico",
"QA": "Qatar",
"RE": "Reunion",
"RO": "Romania",
"RU": "Russian Federation",
"RW": "Rwanda",
"BL": "Saint Barthelemy",
"SH": "Saint Helena",
"KN": "Saint Kitts and Nevis",
"LC": "Saint Lucia",
"MF": "Saint Martin"
"VC": "St Vincent and the Grenadines",
"WS": "Samoa",
"SM": "San Marino",
"ST": "Sao Tome and Principe",
"SA": "Saudi Arabia",
"SN": "Senegal",
"RS": "Serbia",
"CS": "Serbia and Montenegro",
"SC": "Seychelles",
"SL": "Sierra Leone",
"SG": "Singapore",
"SX": "Sint Maarten",
"SK": "Slovakia",
"SI": "Slovenia",
"SB": "Solomon Islands",
"SO": "Somalia",
"ZA": "South Africa",
"GS": "South Georgia South Sandwich Islands",
"SS": "South Sudan",
"ES": "Spain",
"LK": "Sri Lanka",
"SD": "Sudan",
"SR": "Suriname",
"SJ": "Svalbard and Jan Mayen",
"SZ": "Swaziland",
"SE": "Sweden",
"CH": "Switzerland",
"SY": "Syrian Arab Republic",
"TW": "Taiwan,
"TJ": "Tajikistan",
"TZ": "Tanzania,
"TH": "Thailand",
"TL": "Timor-Leste",
"TG": "Togo",
"TK": "Tokelau",
"TO": "Tsonga",
"TT": "Trinidad and Tobago",
"TN": "Tunisia",
"TR": "Turkey",
"TM": "Turkmenistan",
"TC": "Turks and Caicos
"TV": "Tuvalu",
"UG": "Uganda",
"UA": "Ukraine",
"AE": "United Arab Emirates",
"GB": "United Kingdom",
"US": "United States",
"UM": "United States Minor Outlying Islands",
"UY": "Uruguay",
"UZ": "Uzbekistan",
"VU": "Vanuatu",
"VE": "Venezuela",
"VN": "Viet Nam",
"VG": "Virgin Islands, British",
"VI": "Virgin Islands, U.S.",
"WF": "Wallis and Futuna",
"EH": "Western Sahara",
"YE": "Yemen",
"ZM": "Zambia",
"ZW": "Zimbabwe"