Lord Jesus Christ of Nazareth
Also known as... YHVH, The WORD of God, Adonai, Abba, Elohim, Yahweh, El Shaddai, Jehovah Rapha, God our Father.
The Great I'AM, the God of Abraham Isaac, and Jacob. El Roy, Jehova Nissi, Eli, The Alpha and the Omega, The Ancient of Days, The Anointed One, The Rock, The Blessed and Only Sovereign, The Branch, The Bright Morning Star, The Christ, The Comforter, All Consuming Fire, The Creator, The Deliverer, Eternal Father, The Everlasting God, The Almighty Father God, God is for us, The Universal Creator, The Good Shepherd, Heavenly Father, I AM, The Holy Spirit, Immanuel, Jehovah, Jesus, King of Kings and Lord Of Lords, The Lamb of God, Light of the World, Our Loving Father, The Living God. The Way the truth and the Life, The Name That's Above Every Other Name On Earth, & many, many more.
Exclusively for The Universal Creator, The KING of kings and LORD of lords, I humble the Name That's Above Every Other Name On Earth...
Then said the Lord unto me, Though Moses and Samuel stood before me, yet my mind could not be toward this people: cast them out of my sight, and let them go forth. And it shall come to pass, if they say unto thee, Whither shall we go forth? then thou shalt tell them, Thus saith the Lord; Such as are for death, to death; and such as are for the sword, to the sword; and such as are for the famine, to the famine; and such as are for the captivity, to the captivity.
15 Then said the Lord unto me, Though Moses and Samuel stood before me, yet my mind could not be toward this people: cast them out of my sight, and let them go forth.
2 And it shall come to pass, if they say unto thee, Whither shall we go forth? then thou shalt tell them, Thus saith the Lord; Such as are for death, to death; and such as are for the sword, to the sword; and such as are for the famine, to the famine; and such as are for the captivity, to the captivity.
3 And I will appoint over them four kinds, saith the Lord: the sword to slay, and the dogs to tear, and the fowls of the heaven, and the beasts of the earth, to devour and destroy.
4 And I will cause them to be removed into all kingdoms of the earth, because of Manasseh the son of Hezekiah king of Judah, for that which he did in Jerusalem.
5 For who shall have pity upon thee, O Jerusalem? or who shall bemoan thee? or who shall go aside to ask how thou doest?
6 Thou hast forsaken me, saith the Lord, thou art gone backward: therefore will I stretch out my hand against thee, and destroy thee; I am weary with repenting.
7 And I will fan them with a fan in the gates of the land; I will bereave them of children, I will destroy my people since they return not from their ways.
8 Their widows are increased to me above the sand of the seas: I have brought upon them against the mother of the young men a spoiler at noonday: I have caused him to fall upon it suddenly, and terrors upon the city.
9 She that hath borne seven languisheth: she hath given up the ghost; her sun is gone down while it was yet day: she hath been ashamed and confounded: and the residue of them will I deliver to the sword before their enemies, saith the Lord.
10 Woe is me, my mother, that thou hast borne me a man of strife and a man of contention to the whole earth! I have neither lent on usury, nor men have lent to me on usury; yet every one of them doth curse me.
11 The Lord said, Verily it shall be well with thy remnant; verily I will cause the enemy to entreat thee well in the time of evil and in the time of affliction.
12 Shall iron break the northern iron and the steel?
13 Thy substance and thy treasures will I give to the spoil without price, and that for all thy sins, even in all thy borders.
14 And I will make thee to pass with thine enemies into a land which thou knowest not: for a fire is kindled in mine anger, which shall burn upon you.
15 O Lord, thou knowest: remember me, and visit me, and revenge me of my persecutors; take me not away in thy longsuffering: know that for thy sake I have suffered rebuke.
16 Thy words were found, and I did eat them; and thy word was unto me the joy and rejoicing of mine heart: for I am called by thy name, O Lord God of hosts.
17 I sat not in the assembly of the mockers, nor rejoiced; I sat alone because of thy hand: for thou hast filled me with indignation.
18 Why is my pain perpetual, and my wound incurable, which refuseth to be healed? wilt thou be altogether unto me as a liar, and as waters that fail?
19 Therefore thus saith the Lord, If thou return, then will I bring thee again, and thou shalt stand before me: and if thou take forth the precious from the vile, thou shalt be as my mouth: let them return unto thee; but return not thou unto them.
20 And I will make thee unto this people a fenced brasen wall: and they shall fight against thee, but they shall not prevail against thee: for I am with thee to save thee and to deliver thee, saith the Lord.
21 And I will deliver thee out of the hand of the wicked, and I will redeem thee out of the hand of the terrible.
16 The word of the Lord came also unto me, saying,
2 Thou shalt not take thee a wife, neither shalt thou have sons or daughters in this place.
3 For thus saith the Lord concerning the sons and concerning the daughters that are born in this place, and concerning their mothers that bare them, and concerning their fathers that begat them in this land;
4 They shall die of grievous deaths; they shall not be lamented; neither shall they be buried; but they shall be as dung upon the face of the earth: and they shall be consumed by the sword, and by famine; and their carcases shall be meat for the fowls of heaven, and for the beasts of the earth.
5 For thus saith the Lord, Enter not into the house of mourning, neither go to lament nor bemoan them: for I have taken away my peace from this people, saith the Lord, even lovingkindness and mercies.
6 Both the great and the small shall die in this land: they shall not be buried, neither shall men lament for them, nor cut themselves, nor make themselves bald for them:
7 Neither shall men tear themselves for them in mourning, to comfort them for the dead; neither shall men give them the cup of consolation to drink for their father or for their mother.
8 Thou shalt not also go into the house of feasting, to sit with them to eat and to drink.
9 For thus saith the Lord of hosts, the God of Israel; Behold, I will cause to cease out of this place in your eyes, and in your days, the voice of mirth, and the voice of gladness, the voice of the bridegroom, and the voice of the bride.
10 And it shall come to pass, when thou shalt shew this people all these words, and they shall say unto thee, Wherefore hath the Lord pronounced all this great evil against us? or what is our iniquity? or what is our sin that we have committed against the Lord our God?
11 Then shalt thou say unto them, Because your fathers have forsaken me, saith the Lord, and have walked after other gods, and have served them, and have worshipped them, and have forsaken me, and have not kept my law;
12 And ye have done worse than your fathers; for, behold, ye walk every one after the imagination of his evil heart, that they may not hearken unto me:
13 Therefore will I cast you out of this land into a land that ye know not, neither ye nor your fathers; and there shall ye serve other gods day and night; where I will not shew you favour.
14 Therefore, behold, the days come, saith the Lord, that it shall no more be said, The Lord liveth, that brought up the children of Israel out of the land of Egypt;
15 But, The Lord liveth, that brought up the children of Israel from the land of the north, and from all the lands whither he had driven them: and I will bring them again into their land that I gave unto their fathers.
16 Behold, I will send for many fishers, saith the Lord, and they shall fish them; and after will I send for many hunters, and they shall hunt them from every mountain, and from every hill, and out of the holes of the rocks.
17 For mine eyes are upon all their ways: they are not hid from my face, neither is their iniquity hid from mine eyes.
18 And first I will recompense their iniquity and their sin double; because they have defiled my land, they have filled mine inheritance with the carcases of their detestable and abominable things.
19 O Lord, my strength, and my fortress, and my refuge in the day of affliction, the Gentiles shall come unto thee from the ends of the earth, and shall say, Surely our fathers have inherited lies, vanity, and things wherein there is no profit.
20 Shall a man make gods unto himself, and they are no gods?
21 Therefore, behold, I will this once cause them to know, I will cause them to know mine hand and my might; and they shall know that my name is The Lord.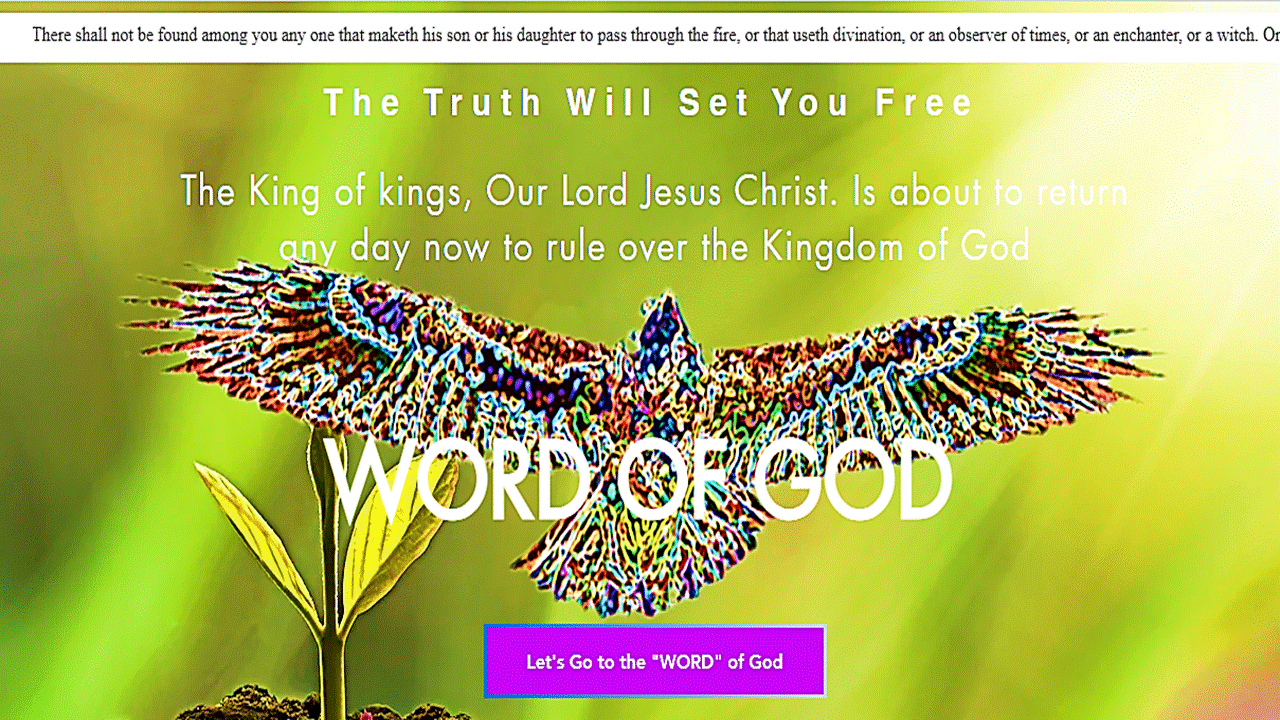 On Earth As It Is In Heaven
"AF": "Afghanistan",
"AX": "Aland Islands",
"AL": "Albania",
"DZ": "Algeria",
AS": "American Samoa",
"AD": "Andorra",
"AO": "Angola",
"AI": "Anguilla",
"AQ": "Antarctica",
"AG": "Antigua and Barbuda",
"AR": "Argentina",
"AM": "Armenia",
"AW": "Aruba",
"AU": "Australia",
"AT": "Austria",
"AZ": "Azerbaijan",
"BS": "Bahamas",
"BH": "Bahrain",
"BD": "Bangladesh",
"BB": "Barbados",
"BY": "Belarus",
"BE": "Belgium",
"BZ": "Belize",
"BJ": "Benin",
"BM": "Bermuda",
"BT": "Bhutan",
"BO": "Bolivia",
"BQ": "Bonaire, Sint Eustatius and Saba",
"BA": "Bosnia and hertz. "BW": "Botswana",
"BV": "Bouvet Island",
"BR": "Brazil",
"IO": "British Indian Ocean
"BN": "Brunei Darussalam", "BG": "Bulgaria",
"BF": "Burkina Faso",
"BI": "Burundi",
"KH": "Cambodia",
"CM": "Cameroon",
"CA": "Canada",
"CV": "Cape Verde",
"KY": "Cayman Islands",
"CF": "Central African Rep.
"TD": "Chad",
"CL": "Chile",
"CN": "China",
"CX": "Christmas Island",
"CC": "Cocos (Keeling) Islands",
"CO": "Colombia",
"KM": "Comoros",
"CG": "Congo",
"CD": "Congo, the Democratic R
"CK": "Cook Islands",
"CR": "Costa Rica",
"CI": "Cote D'Ivoire",
"HR": "Croatia",
"CU": "Cuba",
"CW": "Curacao",
"CY": "Cyprus" G
"CY" "Cyprus" T
"CZ": "Czech Republic",
"DK": "Denmark",
"DJ": "Djibouti",
"DM": "Dominica",
"DO": "Dominican Republic",
"EC": "Ecuador",
"EG": "Egypt",
"SV": "El Salvador",
"GQ": "Equatorial Guinea",
"ER": "Eritrea",
"EE": "Estonia",
"ET": "Ethiopia",
"FK": "Falkland Islands
"FO": "Faroe Islands",
"FJ": "Fiji",
"FI": "Finland",
"FR": "France",
"GF": "French Guiana",
"PF": "French Polynesia",
"TF": "French Southern T
"GA": "Gabon",
"GM": "Gambia",
"GE": "Georgia",
"DE": "Germany",
"GH": "Ghana",
"GI": "Gibraltar",
"GR": "Greece",
"GL": "Greenland",
"GD": "Grenada",
"GP": "Guadeloupe",
"GU": "Guam",
"GT": "Guatemala",
"GG": "Guernsey",
"GN": "Guinea",
"GW": "Guinea-Bissau",
"GY": "Guyana",
"HT": "Haiti",
"VA": "Holy See
"HN": "Honduras",
"HK": "Hong Kong",
"HU": "Hungary",
"IS": "Iceland",
"IN": "India",
"ID": "Indonesia",
"IR": "Iran, ,
"IQ": "Iraq",
"IE": "Ireland",
"IM": "Isle of Man",
"IL": "Israel",
"IT": "Italy",
"JM": "Jamaica",
"JP": "Japan",
"JE": "Jersey",
"JO": "Jordan",
"KZ": "Kazakhstan",
"KE": "Kenya",
"KI": "Kiribati",
"KP": "Korea, D.P.R.
"KR": "Korea,
"XK": "Kosovo",
"KW": "Kuwait",
"KG": "Kyrgyzstan",
"LA": "Lao P.D.R.
"LV": "Latvia",
"LB": "Lebanon",
"LS": "Lesotho",
"LR": "Liberia",
"LY": "Libyan Arab "LI": "Liechtenstein",
"LT": "Lithuania",
"LU": "Luxembourg",
"MO": "Macao",
"MK": "Macedonia,
"MG": "Madagascar",
"MW": "Malawi",
"MY": "Malaysia",
"MV": "Maldives",
"ML": "Mali",
"MT": "Malta",
"MH": "Marshall Islands",
"MQ": "Martinique",
"MR": "Mauritania",
"MU": "Mauritius",
"YT": " Mayotte",
"MX": "Mexico",
"FM": "Micronesia,
"MD": "Moldova, ",
"MC": "Monaco",
"MN": "Mongolia",
"ME": "Montenegro",
"MS": "Montserrat",
"MA": "Morocco",
"MZ": "Mozambique",
"MM": "Myanmar",
"NA": "Namibia",
"NR": "Nauru",
"NP": "Nepal",
"NL": "Netherlands",
"AN": "Netherlands Antilles",
"NC": "New Caledonia",
"NZ": "New Zealand",
"NI": "Nicaragua",
"NE": "Niger",
"NG": "Nigeria",
"NU": "Niue",
"NF": "Norfolk Island",
"MP": "Northern Mariana Islands",
"NO": "Norway",
"OM": "Oman",
"PK": "Pakistan",
"PW": "Palau",
"PS": "Palestinian Territory,
"PA": "Panama",
"PG": "Papua New Guinea",
"PY": "Paraguay",
"PE": "Peru",
"PH": "Philippines",
"PN": "Pitcairn",
"PL": "Poland",
"PT": "Portugal",
"PR": "Puerto Rico",
"QA": "Qatar",
"RE": "Reunion",
"RO": "Romania",
"RU": "Russian Federation",
"RW": "Rwanda",
"BL": "Saint Barthelemy",
"SH": "Saint Helena",
"KN": "Saint Kitts and Nevis",
"LC": "Saint Lucia",
"MF": "Saint Martin"
"VC": "St Vincent and the Grenadines",
"WS": "Samoa",
"SM": "San Marino",
"ST": "Sao Tome and Principe",
"SA": "Saudi Arabia",
"SN": "Senegal",
"RS": "Serbia",
"CS": "Serbia and Montenegro",
"SC": "Seychelles",
"SL": "Sierra Leone",
"SG": "Singapore",
"SX": "Sint Maarten",
"SK": "Slovakia",
"SI": "Slovenia",
"SB": "Solomon Islands",
"SO": "Somalia",
"ZA": "South Africa",
"GS": "South Georgia South Sandwich Islands",
"SS": "South Sudan",
"ES": "Spain",
"LK": "Sri Lanka",
"SD": "Sudan",
"SR": "Suriname",
"SJ": "Svalbard and Jan Mayen",
"SZ": "Swaziland",
"SE": "Sweden",
"CH": "Switzerland",
"SY": "Syrian Arab Republic",
"TW": "Taiwan,
"TJ": "Tajikistan",
"TZ": "Tanzania,
"TH": "Thailand",
"TL": "Timor-Leste",
"TG": "Togo",
"TK": "Tokelau",
"TO": "Tsonga",
"TT": "Trinidad and Tobago",
"TN": "Tunisia",
"TR": "Turkey",
"TM": "Turkmenistan",
"TC": "Turks and Caicos
"TV": "Tuvalu",
"UG": "Uganda",
"UA": "Ukraine",
"AE": "United Arab Emirates",
"GB": "United Kingdom",
"US": "United States",
"UM": "United States Minor Outlying Islands",
"UY": "Uruguay",
"UZ": "Uzbekistan",
"VU": "Vanuatu",
"VE": "Venezuela",
"VN": "Viet Nam",
"VG": "Virgin Islands, British",
"VI": "Virgin Islands, U.S.",
"WF": "Wallis and Futuna",
"EH": "Western Sahara",
"YE": "Yemen",
"ZM": "Zambia",
"ZW": "Zimbabwe"